Upside Seen At One Kendall Square
By Steve Adams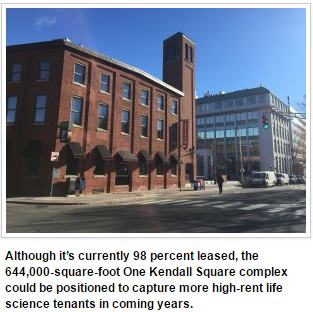 Although it's currently 98 percent leased, the 644,000-square-foot One Kendall Square complex could be positioned to capture more high-rent life science tenants in coming years.
It was built as a sprawling factory complex that manufactured fire hoses and bicycle tires. Expanded in the 1980s, One Kendall Square helped put East Cambridge on the map as a life science destination, but today, nearly half of the 644,000-square-foot campus is devoted to office space.
That could change in the wake of Alexandria Real Estate Equities' $725 million acquisition this month of the two-block complex, and a bet on continuing growth of the East Cambridge life science cluster.
The complex is 98 percent leased, but in-place office and lab rents remain downright bargains by Cambridge standards at $47 per square foot. With more than half
of the 50 tenants' leases set to expire by 2019, life science specialist Alexandria sees potential to transform this 7-building former manufacturing hub by increasing the 36 percent lab component through a series of office space conversions.
"As we evaluate the property for long-term positioning, we will more or less on a suite-by-suite, floor-by-floor basis look at whether it makes sense to convert," said Thomas Andrews, Alexandria's regional market director for Greater Boston. "We think it's likely we'll convert more to lab, but that is dependent on market conditions at the time."
Alexandria will be hard-pressed to top the windfall generated by DivcoWest, which sold the 8-acre property for a $331 million gain after just two years of ownership. But Alexandria is banking on its ability to increase rents by capitalizing on the continuing demand from life science users – particularly early-stage companies – for pricey lab space in supply-constrained Cambridge.
Lab vacancies in the 4.2-million-square-foot Kendall Square lab market fell to 0.8 percent in the third quarter, according to research by Boston-based brokerage Cresa. Asking rents for class A space hit $82 per square foot.
"It's a solid strategy if you can move the rents to where the lab market is," said Kevin Malloy, a principal at Avison Young in Boston. "They have their share of legacy tenants in there all paying office rents. Alexandria has such a large market share that they will be most effective in reaching lab tenants."
Even with lab rents approaching historic highs, lease costs are unlikely to drive life science companies elsewhere, Malloy said. Typically real estate comprises 5 percent to 10 percent of companies' cost structures in the industry.
"As challenging as it is to stay in Cambridge, they'll go out of their way to stay," he said.
Annual absorption of Cambridge lab space has topped 600,000 square feet since 2012 and peaked at 950,000 square feet in 2015, according to JLL research.
The complex was built in the late 1800s as a factory for the Boston Woven Hose & Rubber Co. A successor company, American Biltrite, shuttered the plant in 1981 and the property was converted into office and lab space, attracting industry leaders including Genzyme and Draper Laboratories.
Its legacy of manufacturing use makes One Kendall Square well-suited to lab conversions, with robust floor load capacity and high ceilings, Andrews said. The updates will reflect current trends in lab design toward open-format spaces with transparent walls and portable furnishings and casework.
"It's very much part of today's imperative to encourage more interaction within an organization," he said, noting that Alexandria's own offices in Technology Square were designed with collaboration in mind. "One of the ways lots of employers are trying to do that is to have coworkers have to make eye contact frequently."
The One Kendall Square transaction also includes development rights for a 172,500-square-foot office and lab building at 399 Binney St. Preconstruction activity will begin shortly to prepare for a groundbreaking in the first half of 2017, Andrews said. That project would give Pasadena, California-based Alexandria nearly 6.5 million square feet of commercial real estate in Cambridge.
Alexandria will market the existing buildings' space to small and mid-size users, while the new building would be targeted toward tenants looking for 50,000 square feet or more.
Many developers are adding retail and common-area amenities to office and lab complexes, but One Kendall comes pre-equipped with approximately 100,000 square feet of shops and restaurants ranging from Cambridge Brewing Co. to Turnstyle Cycle studio. The existing retail and restaurant mix was one of the big draws of the property, Andrews said, and Alexandria will recruit local operators as it updates the amenity base.