Life Science Sector Shopping For 3.7M SF
By Steve Adams | Nov 6, 2016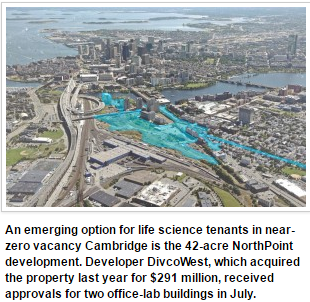 Lopsided disparities between supply and demand are the story of the Cambridge lab market like never before, with tenant requirements outpacing availabilities more than 20-to-1.
With direct vacancies falling below 1 percent, asking triple-net rents have risen 45 percent over the last two years and topped $71 per square foot at the end of the third quarter, according to JLL research.
Developers from South Boston to Lexington are pitching new and rehabilitated properties as back-up plans to life science companies looking to join the Greater Boston industry cluster that encompasses more than 2,100 companies. But the cachet of a Cambridge address – with its cozy proximity to research universities, venture capital shops and startup accelerators – is worth the wait for many companies, despite the lofty rents.
"Plenty of companies are sticking to their guns and looking for the right space in Cambridge," said John Coakley, a senior vice president for Boston-based tenant representation brokerage Cresa.
Currently there are over 3.7 million square feet of requirements by life science companies in Greater Boston, according to JLL. Approximately 3 million square feet of requirements are focused on Cambridge alone, said Thomas Andrews, regional market director for Alexandria Real Estate Equities, a major Kendall Square landlord and developer.
"We have got new actors coming in who weren't there a few quarters ago, both outside-the-market companies are looking to enter the market, and we have new company formation going on," Andrews said during a conference call to discuss Alexandria's third-quarter financials.
The Cambridge availability rate fell to 1.7 percent at the end of the third quarter while class A rents climbed to $75 per square foot, according to Cresa research.
Three companies are in the market for a combined 600,000 square feet of space, potentially bringing thousands of highly-paid employees into the booming industry stronghold.
Johnson & Johnson, which entered Massachusetts in 2013 with the opening of a 9,000-square-foot Boston Innovation Center at One Cambridge Center, is in the market for another 200,000 square feet. The company, with $70 billion in 2015 revenues, has been looking in Cambridge and Boston's Seaport District, according to brokers.
Two other companies have requirements for 200,000 square feet apiece, confirmed Robert Coughlin, CEO of the Massachusetts Biotechnology Council. At least three other life science companies with requirements above 100,000 square feet are considering Massachusetts in their real estate expansion plans, Coughlin said.
"It isn't slowing down, and it's not just biotech or therapeutics," Coughlin said. "GE Healthcare came here (to Marlborough in a 2014 transaction) and that led to the GE headquarters. That was the shot heard around the world, and now everybody in the digital health space is looking."
Alexandria Real Estate Equities has one of the last available large blocks of space in Kendall Square at 100 Binney St., its 401,516-square-foot office and lab complex now under construction. Bristol-Myers Squibb leased 208,000 square feet last June; Alexandria is in negotiations with several pharmaceutical and biotech companies for the remaining space, Chief Financial Officer Dean Shigenaga said last week in a conference call to discuss the company's third-quarter financials.
One emerging option is the long-stalled NorthPoint development in East Cambridge. California developer DivcoWest received city approvals in July for a pair of office and lab buildings at the 42-acre site. DivcoWest could not be reached for comment on whether it will proceed on speculation.
Seaport Landlords Eye Lab Users
Boston's Seaport District fired another widely-heard shot in 2011 when Fallon Co.'s Fan Pier property landed Vertex Pharmaceuticals new 1.1-million-square-foot build-to-suit headquarters in a relocation from Cambridge. But the booming neighborhood has been a comparatively small player when it comes to life science growth.
Most of the activity has taken place at Jamestown's Innovation and Design Building, which has signed leases with such companies as Immunetics, Ginkgo Bioworks, Orig3n Inc. and Boston Bioskills Lab.
Developers Related Beal of Boston and Danvers-based Kavanagh Advisory Group are betting that this is the right time to move forward with Innovation Square Seaport, a 355,000-square-foot research and development and/or manufacturing facility that's had approvals since 2013. The first phase, a 125,000-square-foot office and lab complex at Northern Avenue and Tide Street, is expected to begin construction on speculation, according to brokers for JLL.
Office-To-Lab Conversion Strategy Grows
What if the relief valve for Kendall Square turns out to be … Kendall Square?
The shortage of inventory in Cambridge combined with the city's persistent appeal has prompted landlords such as Alexandria to pursue office-to-lab conversions.
Alexandria is in the process of closing on its $725 million acquisition of the 644,000-square-foot One Kendall Square campus from DivcoWest. It plans to convert some office space, comprising 48 percent of the complex, into higher-income lab space. The property also has permits for a 172,500-square-foot office and lab building scheduled to break ground in the near term, Alexandria announced in its quarterly report last week.
Similarly, rival Biomed Realty is converting half of its 180,000-square-foot 50 Hampshire St. office building into labs. In October, flu vaccine manufacturer Seqirus signed a 10-year lease for 25,520 square feet. The British company, currently with Cambridge offices at 45 and 75 Sidney St., will occupy 50 Hampshire St. in February, spokeswoman Sharon McHale said.