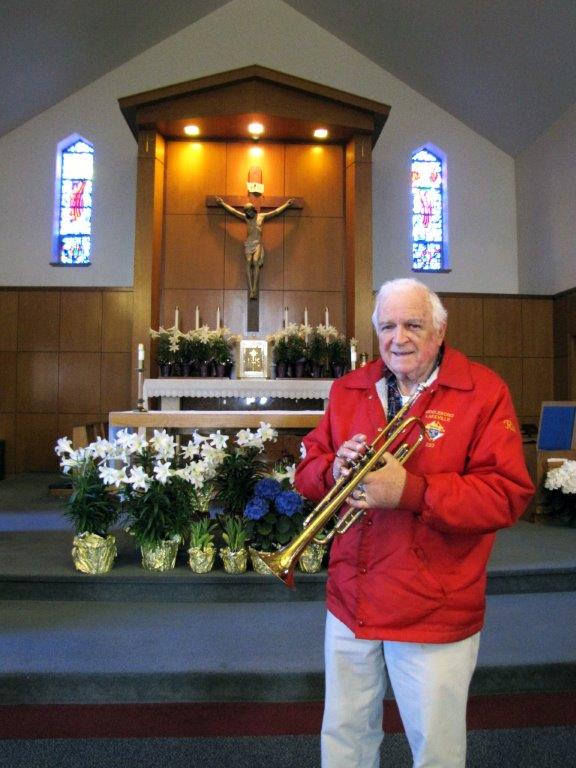 According to Richard Noll, a patient in the CardioVascular Institute (CVI) at Beth Israel Deaconess Medical Center (BIDMC), music performed by a great band can be "divine intervention." Today, Noll continues to fulfill his lifelong passion to make music, thanks to advanced medical intervention.
The 78-year-old resident of Lakeville, Mass., is a retired school music director who still plays the trumpet in the choir of his church, where he is Eucharistic minister at the daily mass. Noll also considers himself blessed to be with four children and 14 grandchildren.
Most importantly, he feels lucky to be alive, thanks to an advanced medical procedure at BIDMC that repaired his abdominal aortic aneurysm (AAA) — a bulge that occurs where the aorta, the main blood-carrying artery, develops weakened arterial walls where it passes through the abdomen. This procedure, which preserves the flow of blood and prevents potentially lethal rupture, is known as fenestrated endovascular aneurysm repair (FEVAR).
Marc Schermerhorn, MD, Chief of Vascular Surgery at the CVI, was the principal investigator who recently helped develop the sophisticated software used in FEVAR. He is one of the region's few vascular surgeons who specialize in this technique.
A Journey Toward Heart Health
Noll survives his father and four brothers, all of whom died of heart disease.
In 1988, Noll underwent successful open heart surgery. Striving to adopt a healthy cardiovascular lifestyle, he started walking five miles a day and working out.
He credits these changes, along with his faith and outstanding physicians, for helping him persevere to the point where he now goes to the gym every day and feels "stronger than ever."
As a band leader, Noll maintained an active routine and was often on the road with bands in Long Island, NY.  After moving to Lakeville, he became the musical director of the Apponequet Band of 100 musicians. Mindful of his family's medical history, however, Noll went for regular check-ups with his local cardiologist and his primary care physician.
In the fall of 2014, Noll told his primary care doctor that he "felt something funny" in his stomach. While there weren't other obvious AAA symptoms (which is typical), the doctor thought Noll may have been at risk and in need of further consultation. He referred Noll to Schermerhorn.
At BIDMC, Schermerhorn performed a high-resolution CT scan. These computerized X-rays that form a picture of the aneurysm verified that Noll had an AAA. Schermerhorn explained to Noll the options for patients with this condition:
Open surgical repair: This proven medical procedure involves a large incision made in the abdomen. It is more invasive and has a longer recovery time than minimally invasive endovascular aortic repair (EVAR).
Endovascular aortic repair:  Standard EVAR, recommended for most AAA patients, typically involves a small cut near each hip to get to the femoral arteries, although Schermerhorn and his team perform this procedure through a simple skin puncture (an advanced technique). Through these punctures, a graft in the shape of a fabric tube is inserted to seal off the aneurysm and creates a new path for blood flow.
Fenestrated endovascular aortic repair:  FEVAR is a special kind of EVAR for patients like Noll whose normal aorta below the kidneys is too short to form a seal with the standard endovascular ("inside a blood vessel") stent, which holds the graft in place. Fenestrations are precisely-placed holes in the graft that allow blood to continue to flow into the kidneys and intestines.
Schermerhorn consulted with Noll's doctor, and they determined that FEVAR was the preferred treatment.
Vessel Navigation
FEVAR was approved by the FDA in 2011 but recently, the technique used in the procedure has become more refined, thanks to advanced proprietary software known as VesselNavigator. Schermerhorn helped to develop this software for the manufacturer. This innovative tool uses CT scanning to produce three-dimensional "road-mapping," which improves accuracy by helping the surgeon to visualize the exact positioning of the graft inside the blood vessels during the procedure.
The benefits of using the Vessel Navigator for aortic procedures such as FEVAR include reductions in radiation dose, fluoroscopy (X-ray) time, contrast agent dose, and length of procedure.
Noll's two-and-a-half-hour procedure in October 2014 was followed by a two-day hospital stay, after which he was discharged with a one-month prescription for Plavix to help prevent blood clots.
Noll had no complications. Recovery is usually a week or two. He was back to playing his trumpet and serving communion within a month.
Trumpeting a New Approach
Says Schermerhorn, "This new approach gives patients a decided advantage they didn't have in the past. Being a bit of an 'IT geek' has helped me further my role as a cardiovascular specialist."
"I was happy to go to BIDMC, where many in my family received excellent care," says Noll. "I wouldn't go anywhere else. Dr. Schermerhorn and his team are great communicators and great clinicians."
Schermerhorn, who has published articles about FEVAR, says that VesselNavigator is now being used for standard EVAR as well. He is hopeful that many more patients with AAA, like Noll, will benefit from this new technology in the future. He has a special feeling about the impact FEVAR had on restoring Noll to his normal activities — Schermerhorn studied music in college and still plays guitar.
Noll continues to see Schermerhorn for checkups, the last of which revealed that "He is doing perfectly well with no limitations."
"My quality of life isn't good, it is excellent!" says Noll. "Younger guys at my gym ask me how I do it."
He adds, "In my field, musical excellence requires a certain amount of precision. With medicine, the stakes are much higher. I'm here today, still playing the trumpet, because I have my faith, my will-power, and my doctors."