BY JOE CLEMENTS

Tenant representation expert Matthew Harvey has big news— literally—to offer Cresa Boston clients seeking a home in one of the country's most expensive and priciest office markets, although many might figuratively be shocked at hearing his report.
"You are seeing big blocks of space coming out in the Back Bay— that's the big story for tenants right now," Harvey says while assessing opportunities in the urban landscape as the final frame of 2016 winds down. "The trend is acute already, and we think we are going to see it continue well into 2017."
At barely 12 million sf and boasting among the country's highest occupancy and rental averages this entire millennium, the Back Bay would seem last on one's list ticking off safety valves for space-starved users, many bursting at the seams as an unfortunate side effect to the regional economy firing on all cylinders. Harvey insists it is true, however, the ingredients a mix of new construction opening up space in forsaken properties such as 399 Boylston St. where Natixis is departing from in favor of the new Boston Properties addition a few blocks west at 888 Boylston St. at which the anchor tenant is taking 128,000 sf in a 452,000-sf building that is part of the sprawling Prudential Center complex.
Other six-figure holes are being left via departures of firms such as Houghton Mifflin and Wells Fargo to the reborn Financial District, plus State Street Bank, which famously opted three years ago to consolidate its headquarters in the transformational Seaport District, that commitment impacting a number of addresses across the city including Copley Place where 130,000 sf of sublease will be on the dais in 2018 for approximately five years remaining, a prospect Harvey counts among those openings which might have enough heft and term to compete against direct deals.
Harvey cautions that the arrivals will not sate all of the needs of companies in circulation, explaining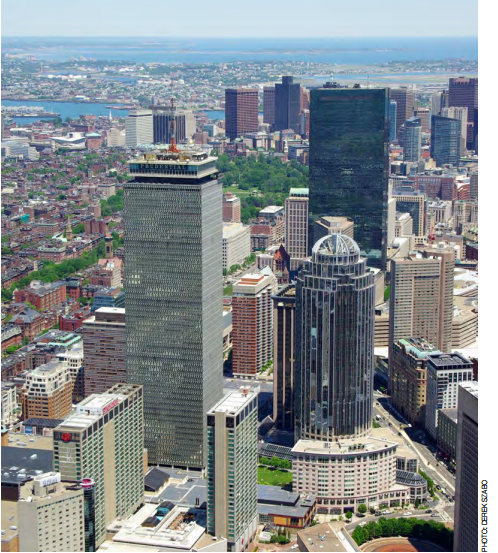 consumer-goods concerns and technology firms are limiting their geography to buildings providing direct access along the MBTA Red LIne system that runs from Braintree into Quincy and the Seaport/Financial District before trundling across the Charles River to Cambridge and out to Alewife. "It is going to be hard for Back Bay landlords to compete for those type of companies, but this offers a real chance of rent relief for tenants who aren't married to the Red Line," says Harvey, of the Back Bay situation. With an estimated 800,000 sf of defections and limited organic growth to depend upon, property owners saddled by holes in excess of 50,000 sf and above "are doing what they can" to lure firms from outside the area, Harvey reports, even making unsolicited overtures to prime prospects.
Access off the Massachusetts Turnpike Extension and commuter rail service on multiple lines to western suburbs gives the Back Bay a leg up for companies considering an in-migration from there, Harvey outlines, and the sheer size of the blocks could be of interest given only pricey new construction is available in the downtown and Seaport submarkets to that degree. "In a lot of cases, it might be the only game in town right now," he says of the Back Bay glut.
Astute Real Reporter readers would have known about many of the pending vacancies coming available in the Back Bay years ago, with the Natixis and State Street Bank pacts first unveiled at therealreporter.com in which the agreements kicked off construction of their respective future homes years in advance. Boston Medical Center (120,000 sf), Houghton Mifflin and Wells Fargo have been preparing their departures for an extended period, and other openings of any size have also been espied on the horizon, but Harvey says the difference now is having actual product in play rather than a potential block that could have found a taker in the interim.
"Some landlords who have seen this coming have taken steps to get out in front of it, but others are still trying to figure out what approach to take," Harvey says. "A lot of them are (considering) whether they should hold out for a big tenant or break up floors whenever they can, and they are starting to realize they need to act" in deciding what strategy to undertake.
Another X factor in the favor of tenants would be increasing sublease prospects that could further challenge direct commitments—or at least improve the tenant's negotiating position—and Cresa is reporting the highest levels of sublease seen over the past 10 years is now in play, including 130,000 sf State Street Bank is seeking takers for at Copley Place, plus an additional 150,000 sf hole at the financial services giant's downtown building at One Lincoln St. Mergers and acquisitions plus a right-sizing mantra among some corporates could free up even more product, says Harvey. That does not mean a balance between landlord/tenant clout that has been on the side of the former the past three years quite yet, but Cresa does relay that rents in the Hub seem to have plateaued and were flat through the summer after posting 4 percent gains in prior quarters.