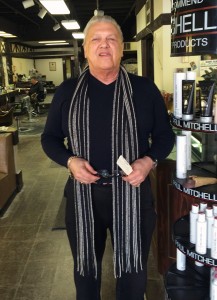 Patrick Donarumo Jr., 74, is an artist. The Lynnfield, Mass., resident has been an oil painter and a fashion designer, and he is now a stylist at Carmen Mario Hair Salon in Peabody. But the real master artists, in his opinion, are the cardiologists who perform medical masterpieces that allow patients to take back their lives. Such was the case with Donarumo's team at the CardioVascular Institute (CVI) at Beth Israel Deaconess Medical Center (BIDMC), where doctors performed an innovative procedure that quickly got him back to his work and routine.
Donarumo benefitted from a recently advanced, highly complex, state-of-the-art medical intervention—Chronic Total Occlusion Percutaneous Coronary Intervention (CTO-PCI)—that opened a completely blocked coronary artery and restored his heart to maximum efficiency. CVI cardiologists Robert Yeh, MD, MSc, MBA, and Duane Pinto, MD, performed the minimally invasive procedure after a referral from Mobeen A. Sheikh, MD, an interventional cardiology colleague from Harvard Vanguard Medical Associates.
Patients with CTO have a complete blockage of a coronary artery that can cause a great deal of pain or discomfort. This type of coronary artery disease occurs when arteries that supply blood to the heart are blocked by a buildup of fatty deposits and plaque (atherosclerosis). Unlike typical blockages that may be 70-90% blocked, CTOs are completely blocked, eliminating an easy channel through which to open the artery. As such, interventions to open CTOs continue to have very low success rates at the majority of centers across the United States.
However, through the development of new techniques and devices, today, a handful of centers of excellence, including the CardioVascular Institute, can achieve success rates of 90% for these difficult blockages of the heart arteries. Using a team approach led by two experienced interventional cardiologists working together, Yeh and Pinto utilize a variety of new methods, including opening the blockage from the back side through "collateral" blood vessels (as was the case for Mr. Donarumo), to achieve results previously not thought possible.
"I had never heard about his procedure before," says Donarumo. "I only know I had bad pain and even had trouble standing up."
Yeh says, "Unfortunately, it's not only patients who are unaware of this procedure. Because the technology is relatively new and is highly complex, many physicians still need to be informed, and more operators need to be trained." As a national expert, Yeh is conducting research about the impact of CTO on patients' quality of life and is involved in training other doctors nationally.
The Road to Heart Health
While Donarumo was on medication for high cholesterol and blood pressure, he felt he was in good health. He was careful about his diet, didn't smoke, and was very active, playing tennis at a high level twice a week. Nevertheless, chest discomfort led to the discovery that he had coronary artery disease and a referral to the CVI. There, physicians performed angioplasty, a procedure that widens partially clogged arteries.
Donarumo says he felt better for almost two years. Then he experienced bad indigestion and a recurrence of bad chest pain. He was evaluated by Sheikh and taken by ambulance to the CVI.
After reviewing Donarumo's medical record and tests, including an EKG and chest X-rays, Yeh and Pinto identified a 100% right coronary blockage. Together with Sheikh, they determined that CTO-PCI was the best course of action.
"I was naturally anxious and didn't know exactly what to expect," says Donarumo. "Fortunately, the medical team made me feel perfectly at ease."
Different Routes to Optimize Outcomes
Prior to the procedure, Yeh and Pinto evaluated the different methods for opening Donarumo's occlusion. In his case, the right coronary artery, which supplied 30% of his heart muscle on the back wall of the heart, was completely blocked. This area of heart muscle was being kept alive by small collateral blood vessel emerging from a different vessel in the front of the heart, but it was not enough to prevent him from having the severe symptoms he was experiencing. Yeh and Pinto determined that the best chance of opening this blockage would be to attack it from the backside, navigating through these collaterals to reach the occlusion. This "retrograde" technique is performed by only a small minority of operators and centers across the country.
Yeh and Pinto, assisted by their technologist and cardiac nurse, performed a three-and-one-half hour procedure.
"I came out of it with no discomfort whatsoever and was thrilled when they told me it went 'perfectly well,' " says Donarumo.
He was kept in the hospital for routine monitoring overnight and was discharged the next day with instructions to take Plavix (a blood thinner) and aspirin. He reports that he's had no pain, no side effects and no slippage on the tennis court. Thanks to Yeh and Pinto, he says, "I was immediately back on my game!"
Yeh expects that more patients will benefit from this procedure in the future as referring physicians learn more about the procedure and interventional cardiologists gain more experience. The elective procedure is usually covered by insurance.
"Most important in the treatment of CTO is the need for physicians and patients to recognize the life-limiting symptoms that often accompany it, including chest discomfort or shortness of breath with exertion. Thereafter, if the procedure is right for the patient, then the physician should be versed in all the techniques currently available and have specific expertise in opening these difficult blockages," says Yeh. "The greater the experience and familiarity with these new methods, the more likely the procedure is to be successful. CTO is not life-threatening, but it often causes symptoms which may severely detract from a patient's quality of life. Many people suffer from CTO, and those who are limited despite taking medications deserve the best chance to improve their quality of life."
About the CardioVascular Institute at Beth Israel Deaconess Medical Center
The Cardiovascular Institute at Beth Israel Deaconess Medical Center combines cardiology, cardiac surgery and vascular surgery in a structure designed to facilitate collaboration across disciplines. The CVI delivers outstanding outcomes, easy access, and better service, earning BIDMC recognition from U.S. News & World Report as one of the best 100 hospitals or a distinguished hospital in heart care and surgery since 2006. Community-based cardiologists and vascular surgeons at convenient offices in Massachusetts and New Hampshire provide a wide range of services and, when advanced care is needed, refer patients to Beth Israel Deaconess Medical Center in Boston. For more information, visitwww.bidmc.harvard.edu/CVI.