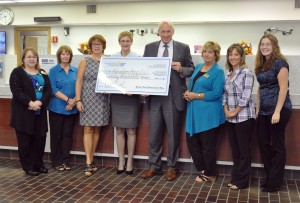 Harrington HealthCare System recently received a $20,000 donation from Webster First Federal Credit Union to help fund a new psychiatric unit at Harrington Healthcare at Webster.
"We recognize how important it is to provide access to behavioral health services to the entire community," said Michael Lussier, President and CEO of Webster First Federal Credit Union. "We are happy to extend our assistance to Harrington for this important project."
The 16-bed, 8,200-square-foot unit will focus on treating patients suffering from mental illness and substance abuse. The facility is scheduled to be opened in late 2016.
"There is no denying the absence of behavioral health resources in the community," said Greg Mirhej, Vice President of Behavioral Health Services at Harrington. "This has played a role in the rise of substance abuse, and by expanding our behavioral health services we aim to increase access to vital mental health services. Our inpatient unit in Webster will be the first in central and western Massachusetts to offer a specialty track that addresses both mental illness and substance abuse."
"We greatly appreciate Webster First Federal Credit Union for its generous donation," said Ed Moore, President & CEO of Harrington. "We are tackling what has become a healthcare crisis in the community, state, and country. This project is essential for local patients who currently have no choice but to travel a significant distance for care. We look forward to using this donation to fill a great community need and serve patients in Webster area as well as those throughout South Central Worcester County."
In October 2014, Harrington received approval of a Community Hospital Acceleration, Revitalization, & Transformation (CHART) investment program grant award of $3.5 million from the Massachusetts Health Policy Commission, with $1.4 million of the grant designated for construction of the inpatient psychiatric project.
In addition to the new facility, Harrington also plans to implement a partial hospitalization program and an intensive outpatient program to ease the transition for patients back into the community.
Harrington currently has a 14-bed behavioral health unit on its main campus in Southbridge, Mass.