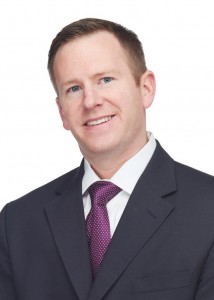 Kyle Bell has joined the growing transaction management team at Cresa Baltimore as a vice president. With more than a decade of experience, he strives to provide transaction management solutions for his clients to maximize organizational functionality, workforce productivity and financial and risk mitigation.
Bell began his real estate career at CB Richard Ellis in Baltimore, where he assisted in the management of the real estate portfolios for three Fortune 1000 companies by providing global landlord and tenant leasing management, market research, and business development services. Subsequently, he served as a land acquisition associate at The Southern Land Company and was responsible for relationship management and identifying and securing properties for purchase and development. As an analyst at ARINC in Annapolis, Kyle served as the primary point of contact for all real estate activities, including site selection analysis, lease and property management, and construction consulting, for a portfolio of more than 1,000 sites.
Bell's successful multi-market corporate real estate management experience earned him the title of Real Estate Manager at Lockheed Martin Properties in Baltimore, where he managed the real estate team responsible for a portfolio of 250 leased properties for the Information Systems and Global Solutions divisions.
Most recently, Kyle was the director of real estate for Connections Education in Columbia where he was directly responsible for the entire transaction management process, including site sourcing and selection, lease negotiation and administration, executive-level and stakeholder correspondence, and management of construction activities. Outside of the office, Bell is a member of the alumni associations at both Loyola Blakefield High School and the University of North Carolina-Chapel Hill and a lacrosse coach with the Lutherville Recreation Council, In college, he was awarded the Dan Andrews Sportsmanship Team Award in 2003.
Resides in:
Timonium
Education:
Bachelor of Arts in communication from  the University of North Carolina-Chapel Hill
What is Baltimore's commercial real estate outlook over the next five years? 
The next five years will be an interesting time in the Baltimore commercial real estate market. With many underutilized office buildings in the CBD converting to residential use, many Class A tenants are shifting east to Harbor Point and Harbor East seeking new trophy space. I'm hopeful that Under Armour's development of Port Covington will attract other employers to the area and drive vacancy down city-wide.  The Columbia market should remain strong as government contracting continues to bolster employment and the I-83 N Corridor should see continued growth with many companies attracting talent between Baltimore and southern Pennsylvania.
If you had not chosen real estate as a profession, what profession would you choose and why?
I would have chosen to be a teacher and a coach. I very much enjoy working with kids and seeing when their hard work comes to fruition.
Favorite vacation:
Favorite vacation was to Aruba for my honeymoon with my wife Julia. Unfortunately with two young children, we haven't been able to go many places since!
When I want to relax, I … :
Spend time with my family and play or watch golf
Favorite band:
My favorite band is The Allman Brothers Band
Favorite quotation:
"I've failed over and over and over again in my life and that is why I succeed. I can accept failure, everyone fails at something. But I can't accept not trying. Some people want it to happen, some wish it would happen, others make it happen."  – Michael Jordan