February 17, 2017| By Jon Banister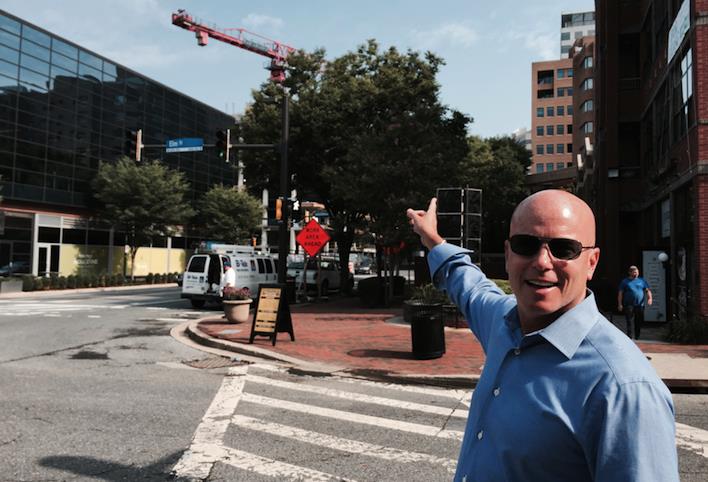 Cresa managing principal Rich Rhodes outside the firm's Bethesda office
Cresa, a tenant rep firm with offices in Bethesda and DC, is opening a third DC-area office, this one in
Tysons, to help expand its client base and recruit top brokers.
The firm does between 30% and 40% of its business in NoVa, managing principal Rich Rhodes said, but
not having a physical presence there was beginning to stunt its growth.
"We're not getting into the market the way I want to," Rhodes said. "Part of the reason is that I can't
effectively recruit. The top tenant reps who want to come to Cresa don't want to come across the river
from Virginia to work in DC or Maryland."
Cresa's new Tysons office at 7901 Jones Branch Drive
To help grow the office, Rhodes himself is now going to have to cross the river, from his Maryland home, to work in the new Tysons office. Cresa is moving into a 3,100 SF spread at 7901 Jones Branch Drive. Rhodes said it was the location — near the intersection of the Beltway and the Dulles Access Road — and the growing amenity base nearby that drew Cresa to the building.
Rhodes has been talking about opening a Tysons office since summer 2015, but a leadership shake-up forced him to take over as interim CEO. That took his focus off the Virginia expansion, but he said when the firm named Jim Underhill CEO last March, he began looking again for space in Tysons.
Rhodes has already filled 10 of his target 18 seats for the office, with a mix of Cresa employees, two new hires and a third currently in negotiations. With the strong talent pool in the area, Rhodes said he expects to have the office full by year-end.
Cresa just lost principal Jon Olmstead to Cushman & Wakefield. In addition to recruiting young talent, Rhodes said he is in talks with one midlevel person with more than 10 years of experience at one of the big firms.
Some of the firm's biggest clients in the area include L3 Technologies, The Motley Fool and EMC. Cresa recently assisted Stanley Martin Homes in its move to Plaza America in Reston. Rhodes said he is bullish on the NoVa market and expects to see continued growth in the cyber security and defense technology sectors.