By: Joe Clements
Finding a cost-conscious tenant space in one of North America's priciest office markets—and securing it in at a landmark address—can be daunting to say the least, yet that is what has occurred via a 37,600-sf lease at the pioneering Prudential Tower anchoring Boston's Back Bay where first-class rents in the latest Cresa survey are averaging $61.70 per sf, trailing only the Hub's Seaport District ($63.27 per sf) and the scorching Kendall Square in Cambridge $80.00 per sf).

"It was a strenuous process," accedes Cresa Boston broker Derek Losi, joined by principal Joseph Sciolla as advisors to Partners in Health, an operation dedicated to improving access to medical care. The main requirements for their client besides a need to accommodate future growth were cost constraints and needing to be near public transportation. After an extensive search, the effort wound up at 800 Boylston St. where Partners in Health will occupy all of the third floor and 11,900 sf on the 14th floor in a long-term deal, details of which were not provided by either Cresa or landlord Boston Properties, which handled negotiations in-house. Bryan J. Koop is Executive VP for the REIT's Boston region.
While the client's top priorities "did limit our choices," Losi credits the landlord for flexibility in crafting an agreement which included tenant improvements to the space and other considerations enabling the client to achieve what might appear in the search wish list a tall task to land in the vibrant complex which also features a massive retail component including Shaw's Supermarket and connections to Copley Place which when they move in this July will provide Partners staff direct access to the Back Bay transit station served by the MBTA commuter and Orange Lines plus Amtrak to New York City.
"We were really happy with the end result," relays Losi, explaining despite being in a low-rise environment and even with Boston Poperties constructing a new of- fice building at 888 Boylston St., the space provides abundant natural light and an open layout popular in today's office environments. In his assessment, the new facility "will enhance the work environment and increase productivity for Partners in Health's employees," one efficiency being the transit options that include the MBTA E Line connecting to the Longwood Medical Area, key to an organization which works with the healthcare community, national governments and other stakeholders promoting access and improvement of health services in 10 countries.
Now Cresa's project management team led by Barry Dube is aiding Partners in fitting out the space and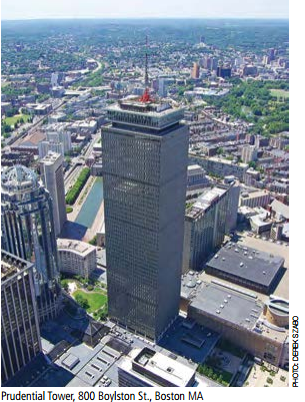 facilitating its relocation from 888 Commonwealth Ave., a Class B building across from Boston University's western flank on the Brookline border. The company's rapid growth was a catalyst for the space search, with its footprint at 888 Commonwealth Ave. encompassing 21,900 sf.
As to whether there were any Class B alternatives in the hunt, Losi says the company's growth and accessibility factors resulted in the Prudential Tower emerging the most viable answer that meets all of the client's needs. Interestingly, the Cresa report shows that the delta between Class B and low-rise tower space has never been smaller on the pricing metric, and reports savvy landlords such as Boston Properties have re-engineered their lower levels to meet the changing needs of companies in the new millennium.
The Cresa report that reviews 12.8 million sf of office space in the Back Bay puts Class B product at $49.03 per sf and has an availability rate for all space there at a seemingly flaccid 20 percent. That is the result of several Back Bay tenants locating to new, often smaller venues, with Houghton-Mifflin and Wells Fargo leaving for the Financial District and State Street Bank downsizing its Boston space to the Seaport, leaving a large hole at Copley Place. Even so, Losi cautions that landlords still have the upper hand because the urban surge continues to dominate the landscape.
"We are still seeing a lot of companies coming here from Cambridge and the suburbs, and that is allowing landlords to continue pushing rents," he says, with Cresa predicting that trend will linger into 2017. Against that backdrop, "it's exciting" to have accomplished the goals of the search for Partners, he says.