October 13, 2016 | By: Joe Clements
BURLINGTON — There is a chill in suburban Boston as 2016's final frame opens against frost-encrusted

dawns leading to crisp October evenings suggesting icier times ahead, and an assessment of suburban Route 128 North by Cresa is forecasting frigid conditions in the offing for office buildings as well, predicting a climate where rents could dip from 5 to 10 percent over the next two years. Vacancy rates are on the rise, reports Cresa, the figure up to 11 percent from 8 percent to begin 2015, while the availability rate is approaching 20 percent from a low of 14 percent.
If the pendulum is shifting, that would be welcome news for clients of the tenant representation firm as Cresa clientele have been faced with scorchingly high rents into the $40's per sf as Burlington has become a darling of technology companies drawn by LWP amenities including the landmark Burlington Mall, Wayside Commons and Nordblom's remake of the pioneering Northwest Office Park into a mixed-use complex with the Third Avenue lifestyle center anchored by a Wegman's.
Despite its strengths, the bloom is off the rose for cream-of-the-crop communities along the northern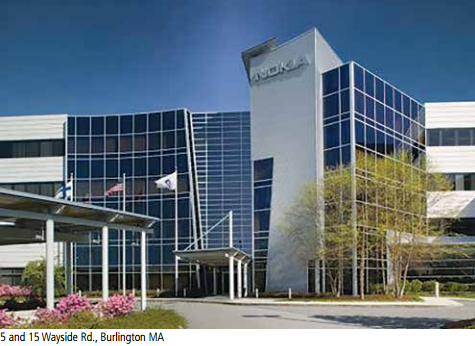 tier of America's Technology Highway for a variety of reasons, according to Cresa, with the shift especially acute in Burlington and Bedford where sublease opportunities are springing up at multiple addresses. Merger/acquisition deals are among the factors cited that Cresa says has sublease space headed for 5 percent of the submarket's inventory of 11.3 million sf, among the biggest blocks being 75,000 sf at 15 Wayside Rd. in Burlington being marketed by JLL for Nuance Communications, its expiration date in March 2018.
In Bedford on Crosby Drive, there are sublease options totaling 280,000 sf in three addresses, Cresa reports, the bulk of that 200,000 sf at 35 Crosby Dr. JLL is listing for WholeLogic, with the term there out to August 2022. "That could get some interest," Doyle says, pointing to the amount of time left, whereas he opines the limited time remaining in the Wayside Drive sublease might encourage a combination deal with owner Piedmont Office Trust where the sublease is blended with a direct agreement.
Besides the internal forces of sublease, Cresa says surrounding communities closer to Interstate 495 such as Billerica, Chelmsford, and Lowell are enticing tenants to consider product a bit off the main drag, according to Cresa principal Joseph Doyle, who is active in the northern suburbs.
"Some companies still feel they need to be on Route 128, but there are tenants who are taking a hard look at (alternatives) nearby," he relays. "If they feel they can, it is a pretty easy decision to make the move . . . The delta in rents is that dramatic, even just a few miles off Route 128."
Doyle says there does appear to be an impact already. "We are seeing landlords getting pretty aggressive, sometimes making unsolicited offers to us even if they are not in the running," he tells Real Reporter, adding, "to me, that indicates the demand just is not there the way it has been the past four or five years." There are multiple forces at play, he says, estimating there has already been rent erosion of about 3 percent YOY after having begun to plateau shortly before the actual shift from what had been a remarkable boom period when nearly every major office building in Burlington changed hands at increasingly higher rates.
For the newest arrivals who often bought in at record low capitalization rates for Route 128 North, adjusting to the shifting tide may be challenging, but for those who can, the time could be ripe to negotiate a renewal, he says, given the pendulum has shifted to a more neutral position. Whatever the influences, there were a number of notable extensions and renewals completed during Q3 for what is normally a slow period for leasing and sales activity.

Cresa participated on behalf of Oracle Corp. in one of the largest such agreements when Network Drive re-upped the firm for 310,000 sf after Doyle and company had conducted a regional search for potential relocation, both at existing properties and development sites. In the end, however, the decision was made to stay put in a deal brokered by Tamie Thompson and Tyler Spring advising the landlord while Doyle was joined counseling Oracle by colleagues Adam Subber, Dan Sullivan and Gabrielle Beaudry. Terms of the extension were not disclosed but Doyle applauds the ownership for tendering an acceptable offer.
"It is a great property and (Oracle officials) are pleased they can remain there," says Doyle of the 158-acre campus totaling 925,000 sf at the juncture of Routes 3 and 128.
Another client, Edgewater Technnologies, re-signed for 20,000 at Harvard Mills in Wakefield, while a second Wakefield company is taking another session at 7 Audubon Rd. Landlord IRG Wakefield Inc. was advised there by the Transwestern RBJ crew of James Lipscomb, Brian McKenzie and John Wilson.