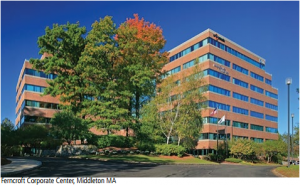 MIDDLETON — The owners of Ferncroft Corporate Center will soon be welcoming a new tenant to the first class office building at 35 Village Way, with human resources compliance firm BLR committing to 13,000 sf, according to a press release issued this week by the company's CRE advisors at CRESA Boston. Newmark Grubb Knight Frank negotiated terms for the landlord, Sovereign Partners, which has owned the 230,000 sf property since May 2014 when the group paid $24.3 million to the Davis Cos.
Cresa Bosto

n's professionals on the case were Gabrielle Beaudry and Joe Doyle, while NGKF principal Torin Taylor oversaw the process along with other members of the firm's suburban north crew. BLR will move over in June from 75 Sylvan St. in neighboring Danvers. According to Beaudry in the press release, the new location is "one of the premier building options in the suburban market," especially on the northern tier. Besides being close to major highways and shopping centers, "the firm's upgraded space will help to attract and retain top talent," Beaudry conveys.
Among the amenities touted are a cafeteria, conference center, fitness facility and covered parking. In a related announcement, Cresa Boston officials say its project management group is now assisting BLR on build out of the new quarters, with Barry Dube and Michael McCormick leading that effort. Move-in date is slated for June 20th.
The agreement comes during an improving climate for the northern submarket that struggled mightily in the 2008 recession, with several assets including Ferncroft Corporate Center falling into foreclosure. Under the stewardship of Sovereign Partners, Ferncroft has come to life recently, part of a trend identified by Cresa Boston

in its latest market overview showing companies reclaiming older properties with new repositioning efforts and the addition of modern amenities such as on-site bars, dining establishments and retail stores, "giving the suburbs the Live Work Play atmosphere employees desire."
Cresa in that review also reports that "demand for high-quality, Class A office space remains strong," with dwindling vacancy rates and rents in top locations commanding north of $40 per sf. Details of the BLR lease were not divulged, although market observers note the northern stripe still lags behind communities farther south such as Burlington, Woburn and Wakefield. The average first Class rent for Middleton and surrounding communities is $26 per sf versus $33.50 in Route 128 North and $38.00 in the Route 128 Central submarket.     Observers maintain the delta could be beneficial for Ferncroft and others as tenants agree to pursue locations farther afield to escape record rents. The vacancy rate has recently slipped to 11.1 percent for 6.9 million sf as the submarket approaches single digits. Ferncroft represents the first venture by Sovereign Partners in the Boston market, with the Gotham-based firm joined by a Baltimore company, Alex Brown Realty, in buying the mid-rise which dates to 1989.